Developing a unique EVP in the public sector: what's your story?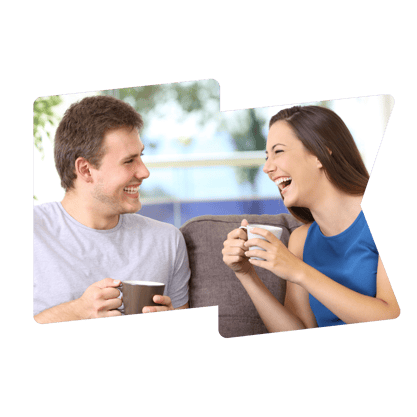 In today's increasingly competitive job market, it's not enough to simply offer a salary and benefits package. Organisations with a unique EVP (Employee Value Proposition) that sets them apart are attracting and retaining the talent they need. Now, it's your turn.
According to Gartner, organisations that effectively deliver on their EVP can decrease annual employee turnover by 69%.
However, with every public and private sector provider working to sell themselves as an employer of choice, defining and communicating your own unique EVP can feel like having a conversation in a crowded room. How do you create a great impression and stand out from the rest?
In this article, we'll explore the key components of an effective EVP and provide practical tips for crafting a compelling EVP strategy that aligns with your hiring goals and values.
What is an Employee Value Proposition (EVP)?
Shaping your EVP
How to communicate your EVP
Examples of effective public sector EVPs
How we can help
What is an Employee Value Proposition (EVP)?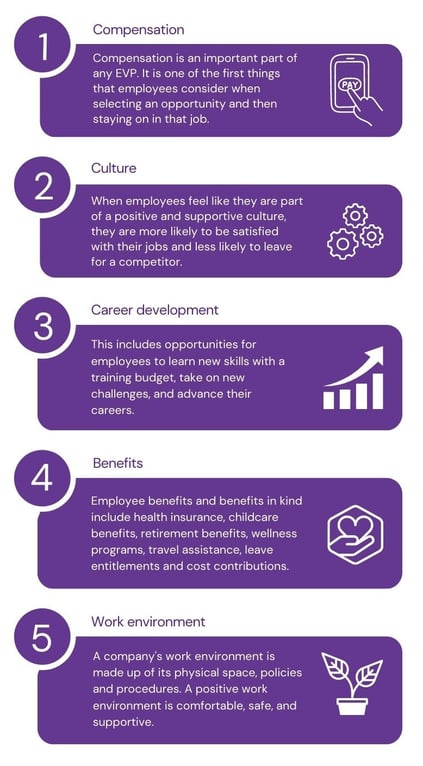 In a candidate-driven job market, where more people are reassessing their work-life priorities, developing a unique EVP to create a great impression has never been more important.
The average British worker spends 36.4 hours per week at work. Your Employee Value Proposition (EVP) is your own set of reasons why someone should spend all that time working with you e.g. What benefits, culture, compensation, development opportunities and environment can you provide beyond the basic conditions of employment to make their lives better?
A well-crafted, authentic and unique EVP should encapsulate what makes your organisation different as a place of work. This isn't just to attract talent, but to retain staff and improve employee engagement and productivity in the process. It is often broken down into distinct components:
Compensation

Culture

Career development

Benefits

Work environment



Shaping your EVP
In order to create a great impression with a solid EVP, firstly gather the honest feedback you need to make informed choices about your offering moving forward.
Feedback in the workplace, whether from external sources or your own team, is brilliant for:
Understanding needs: Identifying factors that motivate employees should be the backbone of your EVP plan, and feedback can provide the insights you need
Correcting or validating assumptions: Feedback enables you to shape an accurate EVP that resonates with what others really value
Identifying gaps: Feedback often provides insights on improvements and other measures that you may not have considered
Encouraging engagement: Including your teams in the process of shaping your unique EVP demonstrates that you listen to their concerns and that their opinions are valued.
Jobs Go Public conducted a study to look at what people in the public sector value most in a new job beyond the salary. Here's what we found: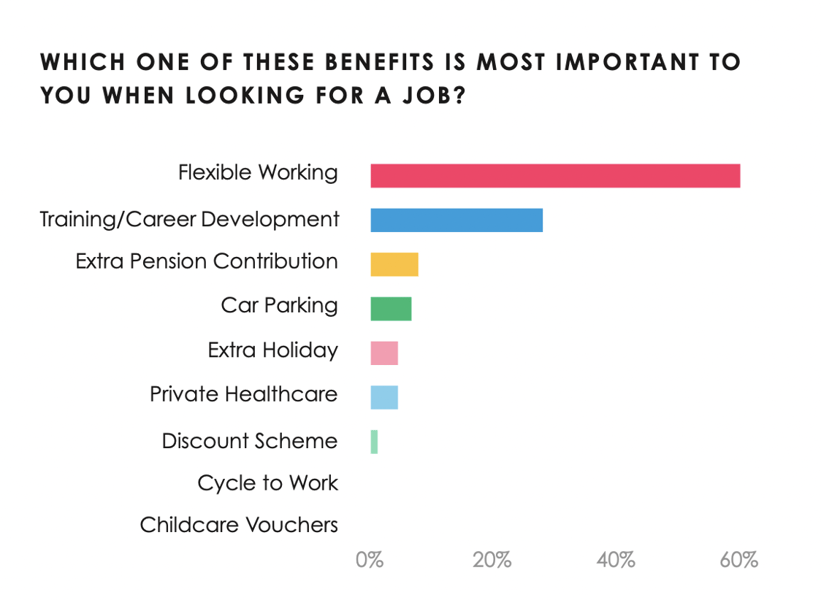 Gathering feedback from your team
Your EVP has to be an honest reflection of your organisation, which relies on honest feedback. Finding out what your people value most about working for you, what made them apply in the first place and what has kept them there will significantly enhance your EVP.
By developing an environment where your team feel comfortable to share their opinions, you will gain the honest feedback you need to move forward as a stronger, more cohesive organisation.
Methods to gather internal feedback include:
Focus groups

Internal surveys

Exit interviews
How to communicate your EVP
Shaping your EVP is the first step, but without a well-thought-out communication plan in place to sell yourself as an employer of choice, your proposition just won't have the desired effect.
It's often believed that communicating an EVP is the sole responsibility of an employer or HR team. While it may be true that an HR team is usually responsible for developing and implementing the EVP, for it to be truly effective, an EVP should be communicated to all employees, potential candidates, stakeholders, and the public. As such, other departments or individuals, such as senior leaders or marketing teams, also play a role in communicating the EVP. Ultimately, the entire organisation should be aligned around the EVP to ensure consistent messaging and delivery.
EVP vs employer brand
What you offer as a company is your EVP. The way you communicate your EVP is part of your employer brand. Without a communication plan in place to promote your EVP and build your employer brand, the whole exercise can fall flat.
An EVP provides the solid foundation you need to bring awareness to your employer brand, and vice versa. To avoid confusion, here are the key differences between an EVP and an employer brand:
| | | |
| --- | --- | --- |
| | Employee Value Proposition (EVP) | Employer brand |
| Focus | What the company offers to its employees | How the company is perceived by potential and current employees |
| Components | Salary, benefits, rewards, career development, work-life balance, values, mission, social purpose, organisational culture | Salary, benefits, rewards, career development, work-life balance, values, mission, social purpose, organisational culture |
| Goals | To attract and retain top talent | To build a strong reputation as an employer |
Examples of effective EVPs and employer branding in the public sector
Shaping a well-defined EVP is the first hurdle, but what does communicating an EVP in the public sector actually look like in practice? We work with clients who have invested in how to elevate their brands to find the talent they need to help their public communities. Here are just a few examples:
Surrey County Council
The guiding principle of the Surrey County Council jobs board is 'that no one is left behind', by improving the quality of life for everyone.
Features that demonstrate these values across the site include a welcome message from its Chief Executive, who outlines the council's passions and ambitions; an entire page dedicated to its inclusion networks to support people from all backgrounds; and a focus on apprenticeship opportunities, advice and testimonials to encourage the workforce of the future.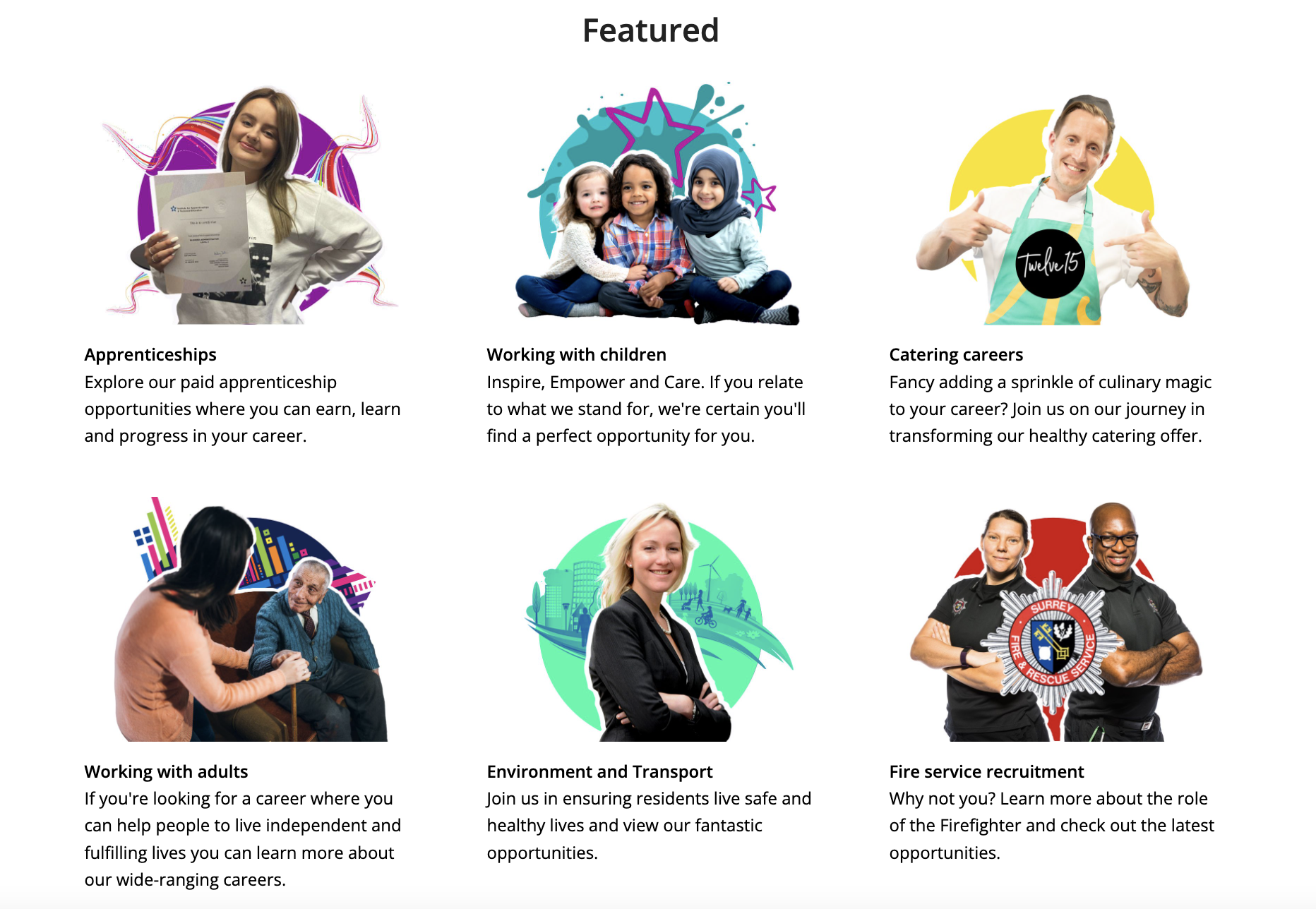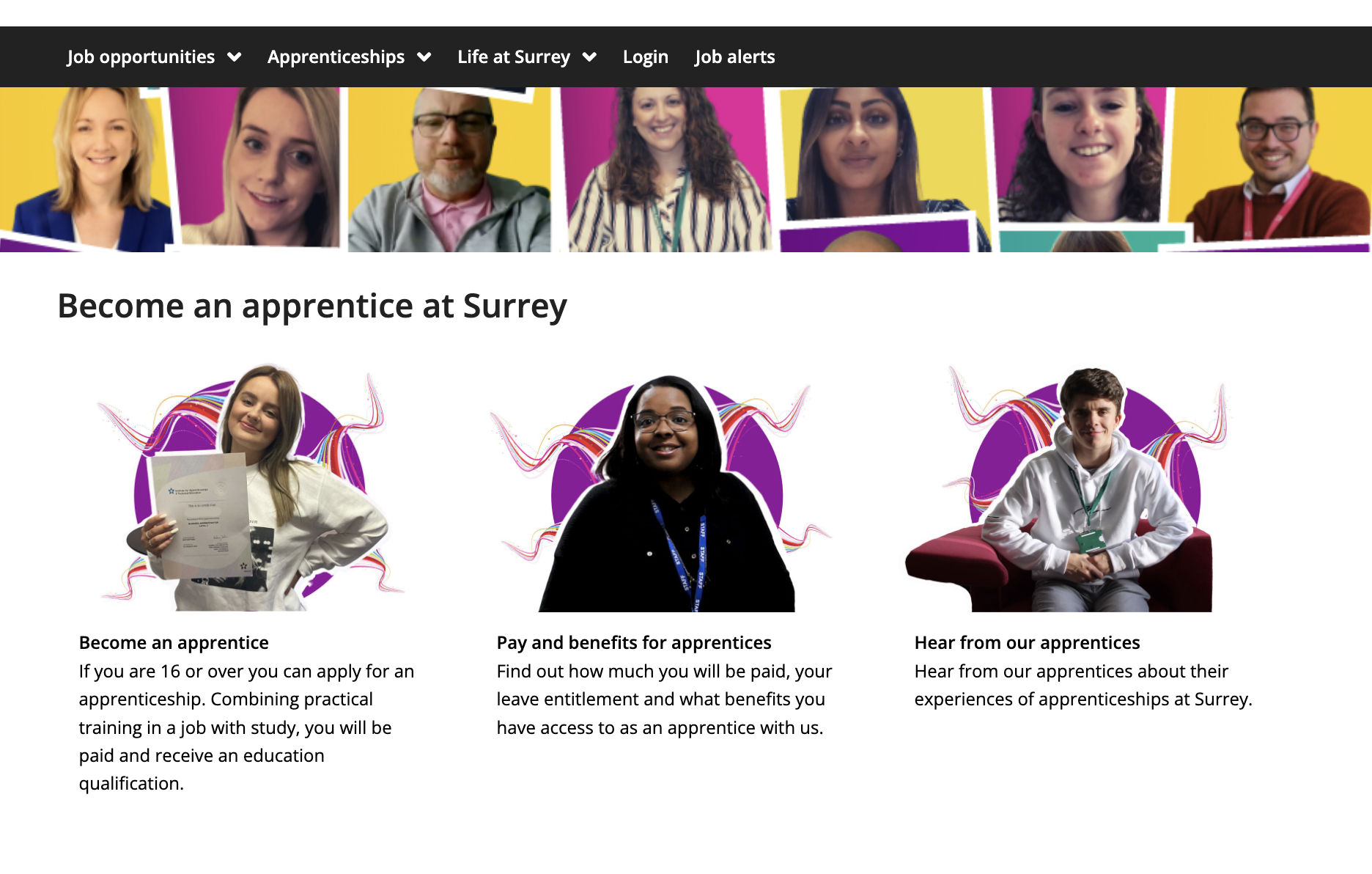 London Borough of Hammersmith and Fulham
Hammersmith & Fulham may be the fourth smallest London borough, but its jobs board packs a punch.
The bespoke Hammersmith and Fulham careers microsite created by the Jobs Go Public team provides a bright and vibrant landing page which captures the area as a 'great place to live and work.'
The simple streamlined design, segmented by key career areas that people most look for, is easy to navigate and links to pages that each highlight its EVP by championing the borough, its people and the career opportunities there. Its 'Teaching in Hammersmith in Fulham' page, for example, reads like an EVP handbook by outlining pay and rewards, professional development and wellbeing, finished with testimonials by teachers in the area.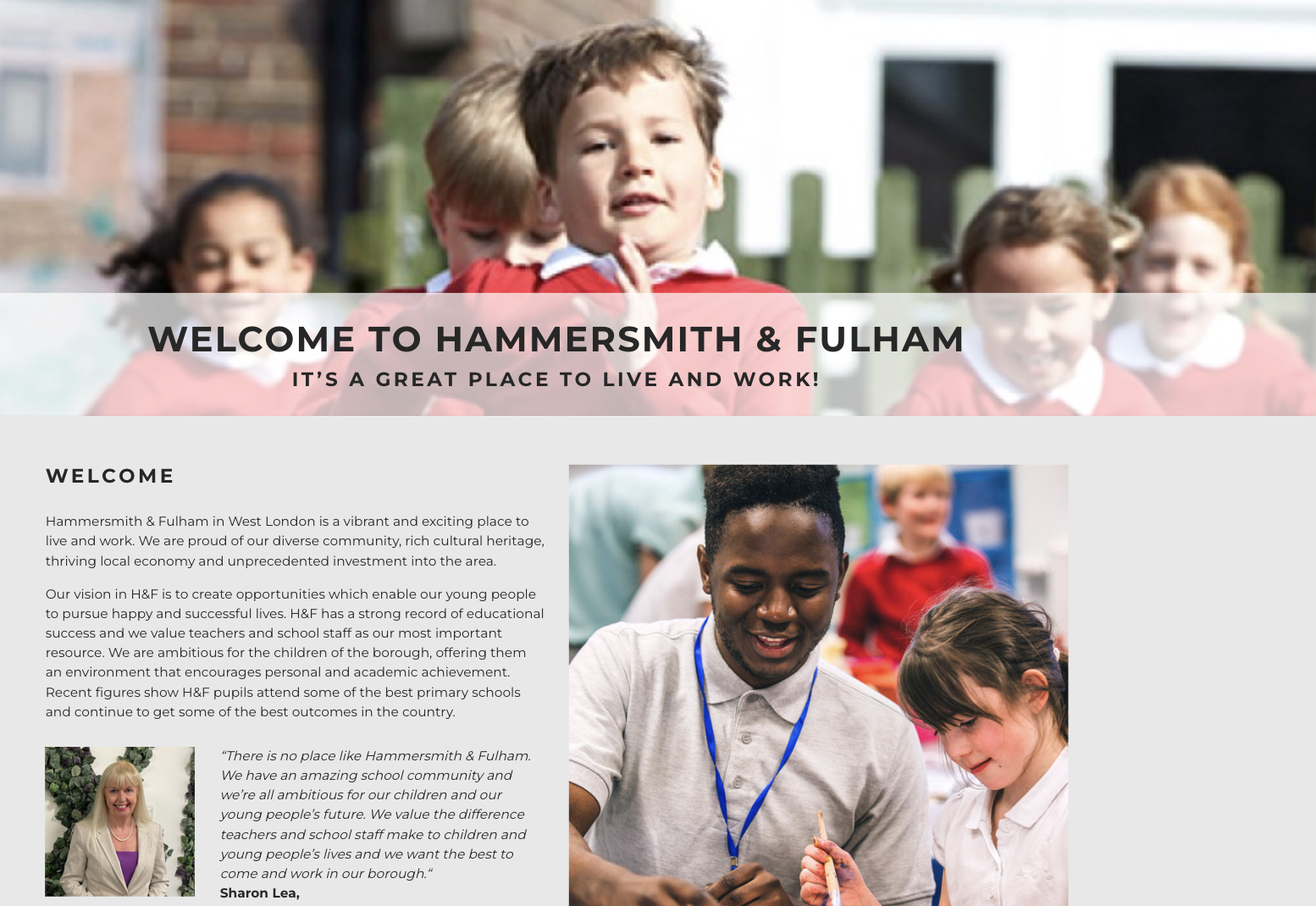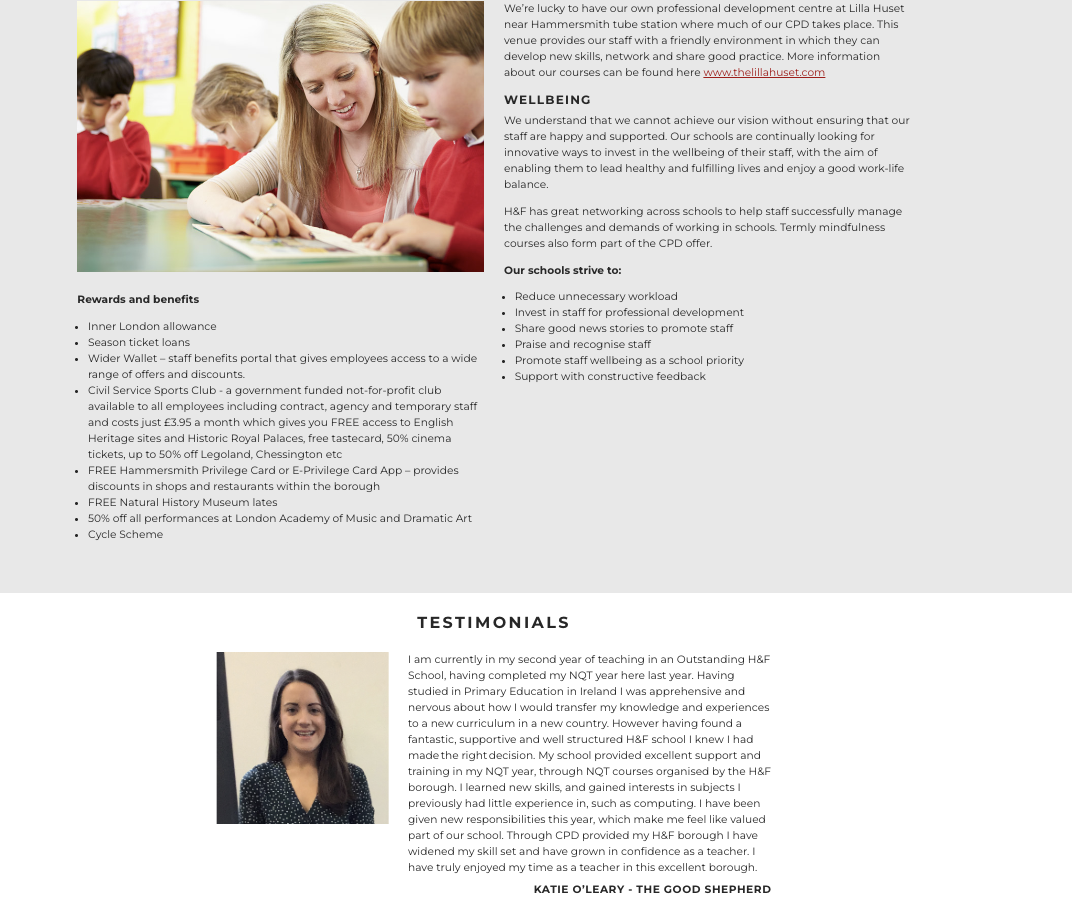 Knowsley Council
Located between the two thriving cities of Liverpool and Manchester, Knowsley is well-located, fantastically connected and yet still beautifully green.
This juxtaposition between the urban and rural in Knowsley is present immediately through the use of imagery on its careers microsite, which provides just enough information to sell the benefits of the area and council, without overwhelming visitors.
The microsite centres around the benefits of working at Knowsley Council and living in the area. The messaging is built around candidates becoming 'part of the journey' of Knowsley, the website is keen to state the infrastructure and high-performing brands that have helped to transform the area over the years.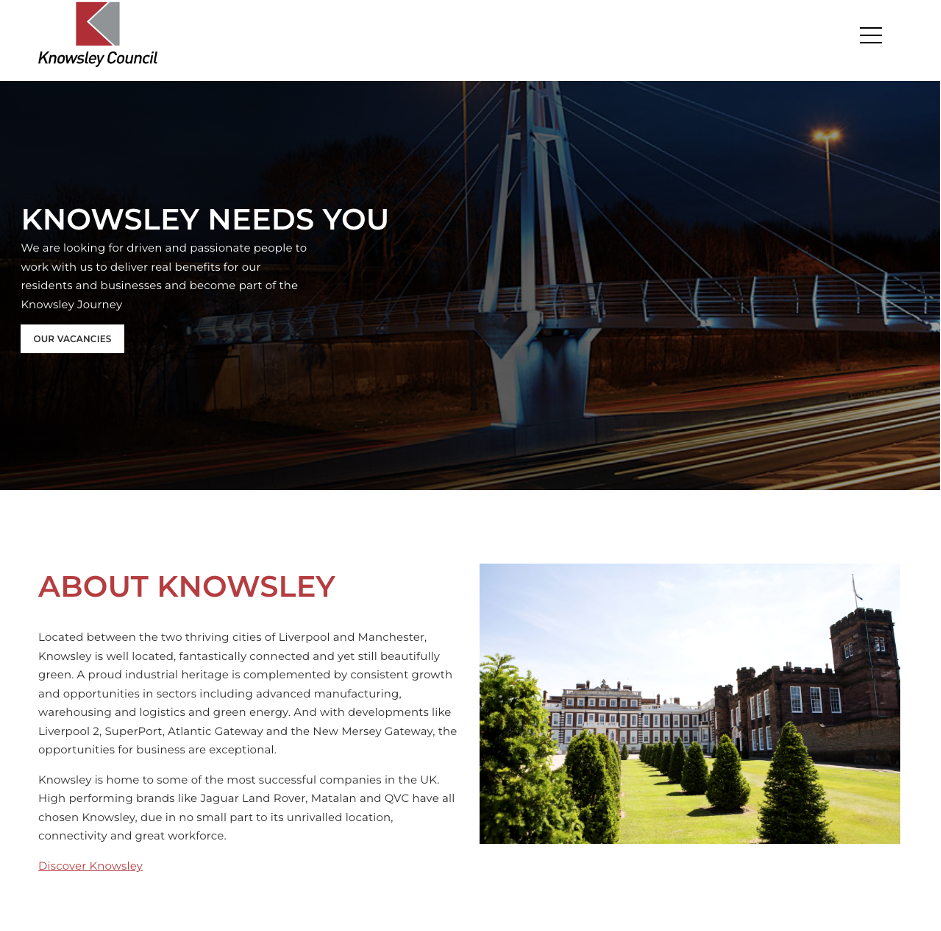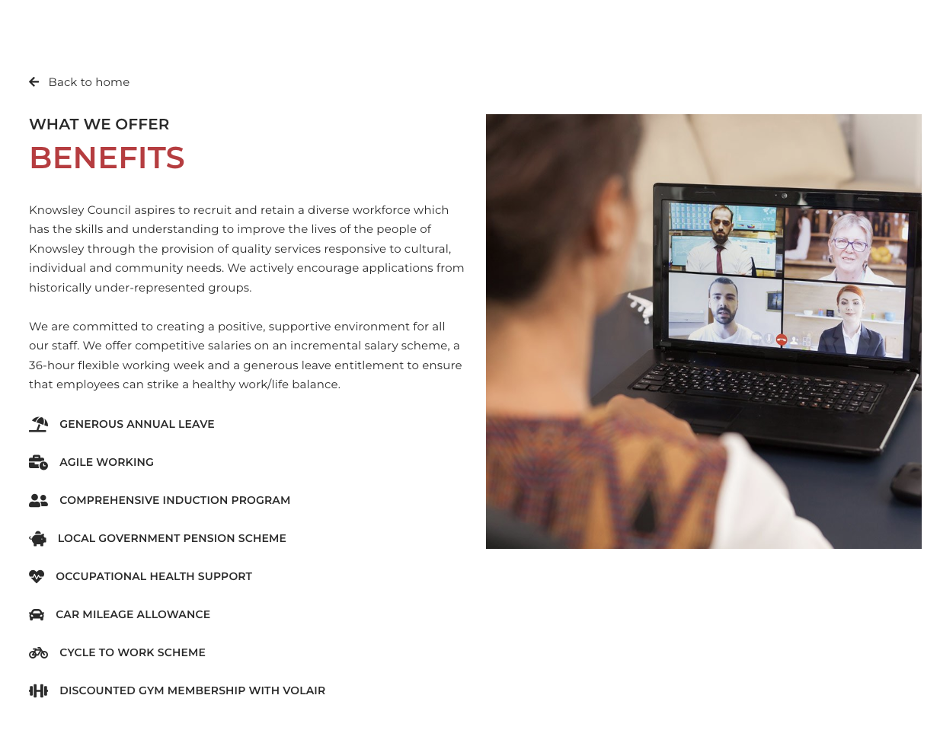 For more examples of great employer brands in the public sector, visit our blog.
Develop a unique EVP with Jobs Go Public
Are you looking for a recruitment partner who understands your purpose as much as you do? We are proud to be an e-recruitment partner for some of the largest employers in the public sector.
The right recruiter becomes an extension of your brand. This means being able to:
Communicate your company values

Tell the story of existing employees who are thriving at the organisation

Outlines career growth opportunities

Champion additional benefits beyond salary.
Our resourcing team has 40 years' combined resourcing experience in public sector recruitment. They are specialists in placing candidates for hard-to-fill roles and headhunting across the public sector.
Get in touch
See all posts