Preparing for an informal job interview: what to expect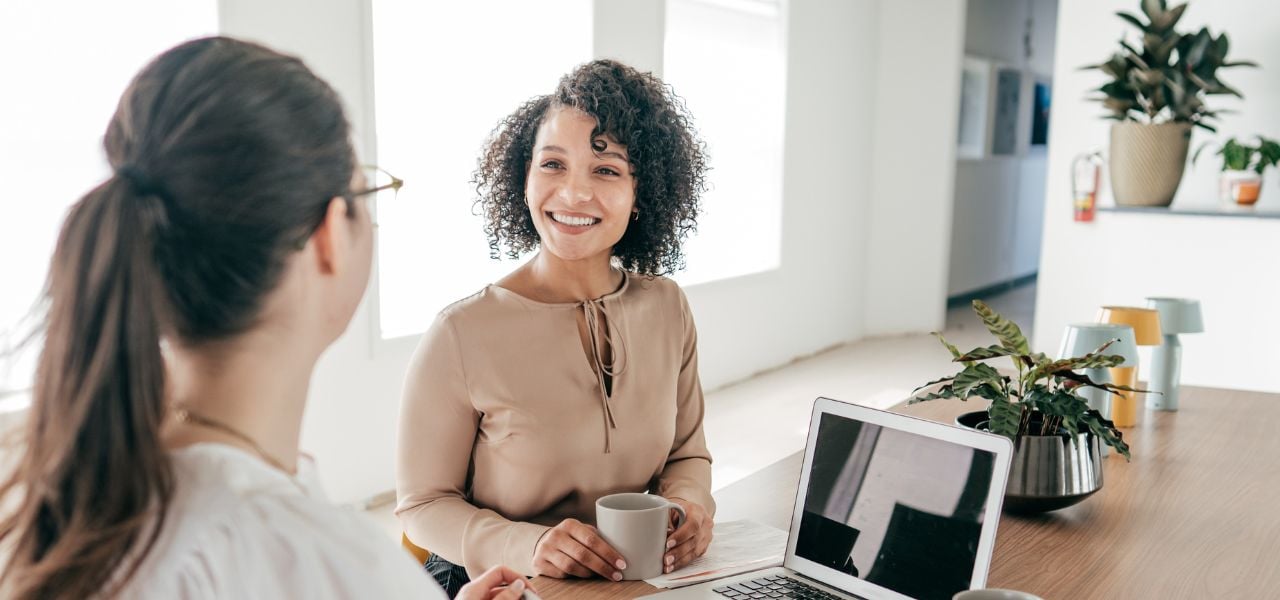 An informal interview is a question-and-answer-based conversation without the structure of a formal interview. Informal interviews are designed to place less pressure on a candidate to provide polished answers, often with the aim of getting to know behaviour and personality fit without the nerves.
Why do hiring managers use informal interviews?
Hiring managers will conduct informal interviews for a few reasons:
To assess personality and cultural fit
The relaxed nature of an informal interview enables a hiring manager to assess your personality to determine whether you will be a good fit with the company culture. Conversations are intended to flow more naturally to allow an interviewer to get a better sense of your communication style and demeanour.
Gather additional information
Often a written CV and cover letter don't paint a full picture of a candidate. Hiring managers will ask questions, or seek clarifications based on information in a CV and cover letter, such as experience, skills and qualifications.
Build relationships with candidates
Informal interviews help to establish a better connection during the hiring process. Not only is this important for keeping you keen for their opportunity, conversations can also indicate whether you have the interpersonal skills that are required for a particular role.
To assess motivation
By having an informal conversation, managers can get a better sense of why you are interested in the role, what you hope to achieve in the position and your motivations. Again, this can establish whether you're a good fit.
When to expect an informal interview
Informal interviews can take many forms, from chats over the phone, video links and meeting up in person. They can take place at various stages of the hiring process, depending on a company's hiring practices and the specifics of a job vacancy:
Before a formal interview
In some cases, an informal phone or video call will be set up before inviting a candidate in for a formal interview. This initial conversation serves as a screening to determine if someone has the required qualifications and cultural fit.
During a formal interview process
Informal interviews can also be incorporated into a formal interview process. For example, a hiring manager or other team members may take a candidate out for lunch or coffee after the formal interview in order to get to know them better and answer any additional questions they may have. Note that lunch meetings occur far less frequently in a public sector recruitment process.
As a follow-up to a formal interview
An informal interview may take place as a follow-up chat after a formal interview, either before making a final decision or before a final interview with a senior team as a final way to gather information.
As part of the offer process
In some cases, hiring managers request a chat rather than an interview during an offer process. For example, they may invite the candidate to come in for a casual meeting to discuss the details of the offer, remind a candidate of staff benefits, share onboarding details and projects that they'll be working on.
Our Head of Resourcing Solutions shares her advice on how to prepare for the interview stage.
Commonly asked questions during an informal interview
Informal interview questions are more casual and conversational in nature, designed to get an overall sense of a candidate's personality, interests, and work style. Informal interviews often open by talking about your week, how you're feeling about the hiring process and other friendly topics. However, for the most part, informal interview questions often mirror typical questions that you might expect:
Why do you think you'd be good at this job?

Can you tell me a little bit about yourself?

Have you ever faced a challenging situation at work and how did you handle it?

What is your preferred method of communication?

What motivates you to perform well at work?

What is the one thing you'd like to achieve in this role?

Do you work best in a team-oriented or autonomous environment?

How do you handle constructive criticism or feedback?
How to prepare for an informal interview
By their nature, informal interviews are less structured and spontaneous. The focus is on personality and culture fit, so the best way to approach an informal interview is to be yourself and feel comfortable. However, that's easier said than done, so here are a few informal interview preparation tips:
Research the company
Even if the interview is informal, you should know something about the company. Visit their website to familiarise yourself with their mission, values, and culture. You can also check their social media profiles to get a sense of what it is like working for them.
This information will give you an idea of their expectations and how you can fit in with their team.
Understand the role
It's important to understand the role you're applying for. Read through the job description and make notes about your experience, skills, and qualifications that are a good match. Remember to have a copy of your CV and cover letter handy as you're likely to be asked questions that refer directly to what you have written.
Remember to smile and be yourself
In an informal interview, the interviewer is trying to get a sense of your personality and character, so be yourself. Relax, smile, and let your personality shine through.
Prepare a list of questions
Be curious and ask thoughtful questions about the company, the role, and the team. Think about what would be useful to know on your first day, and what elements of a role and company culture that you're most interested in.
Dress appropriately
Even if an interview is informal, you should dress professionally. Dress in a way that shows you take the opportunity seriously.
Join our talent pool to find the best role for you
Keep up to date with the latest vacancies in the public sector by joining our talent pool. Jobs Go Public works with some of the largest public sector organisations in the UK which post thousands of vacancies every year.
See all posts